Welcome to the Columbus Find-A-Car Website

Shown from left to right; BMW 300 series, Cadillac CTS and Infiniti G35
2004 Pontiac Grand Prix
The new Grand Prix will be a BMW beater for under $25,000. A 280 horsepower engine is available.
Columbus Find-A-Car Co.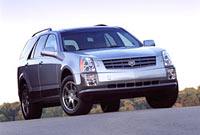 Look for the 2004 Cadillac SRX in showrooms this Summer!
Welcome to the Columbus Find-A-Car web site!

On this home page, we'll introduce our business and highlight important areas on our site. On this site you can find important links to car companies and to the people that work here.

This company is designed to make finding a car as easy as a phone call. At Columbus Find-A-Car we do all the dirty work and you get the exact right car, truck, or SUV you have been looking for.



How to let us find you a car!

Step #1: Contact the owner Mark Barr at 614-899-2486, 614-477-4456 or by email at Cadillacdaddy1@yahoo.com and tell him the specifics of what car you want to buy.

-Include the Make & Model.
-Year or Year's you are looking for.
-Acceptable Mileage on the car.
-Special options you want like moonroof, air, power seats, etc.
-The Price you want.
-Tell us if you have a vehicle you want to Trade in as well.

Step #2- One of our associated will contact you when we recieve the information. We will then search for the car of your dreams. All the hassle of looking and buying a car will be handled by us.

Step #3-Once we have found the car you desire, we will contact you with the information. If you decide to buy the car the deal will be ready for you to close when you go to the dealership or private owner.

A small flat finder's fee will be charged by Columbus Find-A-Car for finding the vehicle you want.

Fees depend on the purchase price of the car and whether it is used or new.

This is a Family Owned Business and the fee will be minimal and save you the customer from hours of car salesperson grief.

Step #4- Drive away in your new car without all the hassle of Searching and Dealing for a new Car !

Click here to look at brand-new General Motors Vehicles (Oldsmobile, Buick, Hummer, Chevrolet, GMC, Saturn, Cadillac, Pontiac)

Click here to look at brand-new Ford Vehicles (Ford, Mercury, Lincoln, Volvo, Jaguar, Aston-Martin)

Click here to look at brand-new Chrysler vehicles. (Chrysler, Plymouth, Dodge, Jeep)

2003 Cadillac Escalade ESV


The new Escalade is the size of a Suburban and will be in showrooms this Summer.
Please get in touch to offer comments and join our mailing list for sales and specials!

You can e-mail us at:
Columbus Find-A-Car Co. * 683 Autumn Branch rd * Westerville * OH * 43081